By: Sandi Radoja
Dorothy Williams had a common name. Don't be deceived. She was anything but common. Rather than tell her life story in an announcement of her death, Dorothy Donitza Trboyevich Yarnall Williams lived her life to the fullest.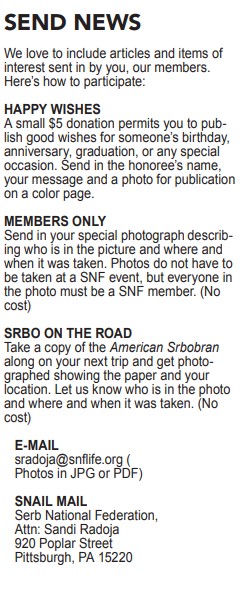 She was born near Bovey, Minnesota, to immigrant parents. At school her name became Dorothy. Although Trboyevich was hardly an Anglo-Saxon name, it was anglicized from the Serbian Trbojevic at some point along the way so that, at least, it was pronounced correctly, much like Danica became Donitza, a name she would reclaim after high school.
It didn't matter. Donitza knew her background.
She told her good friend Jim Soft the story of her parents getting married. Her mother, who had arrived from the old country at age 19, landed in New York. With her meager finances and lack of English language, she managed to get on a train to Minnesota where she had an aunt. She found her aunt and moved in. Within the first few weeks of her arrival, she was attending church.
In those early days the Serbians who emigrated to Minnesota for the most part settled in the three heavily industrialized areas of the Iron Range, Duluth, and South St. Paul. All three areas built Serbian churches. Before those churches were built, the Serbs worshipped with the Russians in the area. Although that arrangement worked for religious activities, there was a cultural vacuum for the Serbs. In 1924, they formed a fraternal lodge, eventually building the Serbian National Home. "This large hall served as an altar of worship, Serbian school, lodge, and social hall for all Serbian functions and gatherings," according to the website stsavamn.org.
Donitza told the story that her young mother walked "home" (to her Aunt's house) from church one Sunday soon after arriving in Minnesota to find three men in the parlor with her aunt. She was told to pick one as a husband as apparently, they were all willing to get married. Her mother's aunt explained that she could not afford to cover room and board for the new emigrant. She picked Daniel Trboyevich, the man who would become Donitza's father.
During her childhood, the family owned a tavern that was frequented by working men. Donitza was an industrious youngster. She understood the value of hard work and frugal spending. She worked odd jobs in the neighborhood whenever possible, she worked in a dry goods store, and was also paid for working in the tavern so she could save her money for college.
One day in the tavern, she was sitting at a stool listening to the conversations and was intrigued by one gentleman who was discussing "investments." Anxious to learn how money grows with speed, she began asking this man about such things. We don't know the conversation that took place or why the man was so deeply impressed by this young woman's interest, but we know the result. He made a gift to young Donitza of two shares of stock. It may or may not have come with further advice. Donitza must have been as thrilled as she was grateful.
When she graduated high school, she immediately set out to make her way to college. She said she was horrified to discover that her savings had been completely depleted by her father, who explained he had to use her money to support the tavern business. Undaunted by this setback, she packed her meager belongings and went to the bus station. As she related the story, she somehow convinced the driver to allow her to ride for free. Her destination was the University of Minnesota where she would appeal to the school to allow her to work for tuition and board. All she had were those two shares of stock, and she didn't want to surrender them. The university agreed and she was admitted.
Little did Donitza realize the magnitude of her decision to pursue her education. At the time, the daughters of working-class families were unlikely to finish high school. But she plunged ahead, finishing her degree work based on her dedication to put forth the needed effort to be successful at everything she did, studying, laboring, dreaming. She earned a B.S. in Education and taught at Pine Island and Keewatin, MN while in the summers earning her M.A. degree from Columbia.
The story of her life from that point forward is the result of her strong character. In 1943 she joined the Navy, where she met her first husband, Lt. Cmdr. William King Yarnall. The couple later married in 1948. He was a graduate of the Naval Academy (1939) and was an officer aboard the USS Oklahoma at Pearl Harbor at the time of the Japanese attack. He served in the Pacific Theater throughout World War II. Following the war, he was stationed at the Philadelphia Navy Base with the China naval Advisory Group in Nanking. He was one of the first on the ground in Nagasaki, following the atom bomb. He retired from active serve in 1949. Lt. Cmdr. Yarnall succumbed to cancer at the young age of 35 in May 1950. He was laid to rest at Arlington National Cemetery.
Forced to move on, Donitza recovered from the loss of her husband. She herself achieved the rank of Lieutenant Commander before her retirement in 1964. Eventually she met and married Captain Paul Darwin Williams during a quiet ceremony in the Chapel of the U S Naval Base in Philadelphia on August 22, 1959.
Captain Williams, a Naval Academy graduate in 1932, commanded the USS Cummings which, in addition to aircraft escort duty during World War II, was assigned to the task group that carried President Roosevelt to Hawaii and Alaska. The President was in the Cummings "for the trip down the inside passage from Alaska to Vancouver and into Bremerton navy Yard, where he launched his campaign for a fourth term," according to Paul's biography. Roosevelt was successful, of course, and later wrote his personal thanks in a letter to Captain Williams, saying how much he appreciated the hospitality and congeniality of everyone on board the USS Cummings. Captain Williams retired from the Navy in 1960 and would go on to work with the Educational Testing Service for another 17 years where he became Director of Test Security.
The couple made their permanent home in the East but would frequently winter in Arizona. By 1981 they were both retired and, eventually, pulled up stakes to move to Sun City permanently. Finding summertime in the desert almost as intolerable as the wintertime in New Jersey, the Williams often traveled to Montana to spend extended time with friends and avoid the oppressive heat.
Their friends were avid supporters of the Yellowstone Boys and Girls Ranch Foundation and visited YRGRF summer after summer in their "northern summer migration trek." The Williams settled into the same pattern. It was here they met Jim Soft, who served as presidentof the Foundation from 2002 through 2012, and who worked with constituents for over 45 years, as he still does today. Along the way, a friendship developed that would continue throughout Donitza's life. "They were wonderful people," said Soft, having worked with Paul and Donitza for over 30 years. After Paul
died (in 2002 at the age of 91) Donitza continued her "independence," walking two to three miles each morning until, at age 98, she fell while at home alone. That led to a decision for her to live in a facility where she would have readily available assistance.
"Her condo stayed exactly as it was the day she left it," said Soft. "We always expected her to return home since she was so determined to get well." When sorting through things, Donitza was prepared to discard the letter from President Roosevelt that had been written to Paul regarding his time on the USS Cummings. Instead, she requested the letter be hermetically sealed and displayed in the board room of the Yellowstone Boys and Girls Ranch Foundation.
Donitza died November 28, 2018, at the age of 104. She is buried next to Paul in the National Memorial Cemetery in Phoenix, Arizona.
Donitza's journey through life took her to nearly every corner of the world. Early on she saw Hawaii, Guam, the Philippines, Shanghai and more, as she traveled with her first husband. In later years, she and Paul enjoyed numerous cruises. Navy people, they loved the sea and the ships. "They were always traveling, always on cruises frequently dining at the captain's table. They really enjoyed life."
Throughout her adventures, and despite their diversity, there were many constants. Both valued education and hard work, but Donitza never forgot her Serbian roots. She was a member of St. Sava Serbian Orthodox Church in Phoenix and SNF Lodge #40 Kosovo. And, she subscribed to the American Srbobran.
"She would see the pictures of those handsome young men and beautiful young women in the Serbian paper every year, the scholarship winners, and it really impressed her," said Jim Soft. With that in mind, she consulted with her advisors regarding her financial investments and estate planning and made a decision to offer scholarships of higher amounts. "She wanted to set aside enough funds to hopefully fund three $10,000 annual scholarships for SNF students…we were proud and honored to have helped her make that happen," he added.
Another constant in her life, was the investment discipline that came from those two shares of stock given to her by the tavern patron so many years ago. Maybe at his suggestion or as a conclusion she reached after their discussion on investments, Donitza held on to that stock for her entire life. It was Standard Oil. After dividends, splits, additional purchases, and inevitable growth, her investment experience morphed into Exxon stock which was significant enough to fund the Donitza and Paul D. Williams Scholarship Fund by the time she died.
For an extraordinary woman who led a remarkable life, her simple obituary left little clue as to all that she was. The announcement was a reflection of her humility and practicality. Memorials were suggested to the Serb National Federation Scholarship Fund, to St. Sava Serbian Orthodox Church in Phoenix, Arizona, or to the Yellowstone Boys and Girls Ranch Foundation in Montana.
Donitza Dorothy Trboyevich Yarnall Williams took many decisive steps during her life that have made a positive difference for others; not the least of which is the affect she will have on young Serbian students who are awarded the Donitza and Paul D. Williams Scholarships in years to come.
The three annual Donitza and Paul D. Williams Scholarships are for U S citizens (by birth or naturalization) and high school graduates under the age of 30 who are at least 50% of Serbian descent and baptized in the Eastern Orthodox Church. They must be enrolled in a qualified, accredited college or university and have a minimum 3.0 GPA. Preference will be given to Minnesota residents. Applications are available through the Serb National Federation or on its website www.snflife.org.
Other SNF Scholarship Information:
As it is each year, the Serb National Federation will offer numerous scholarships for its members furthering their education. Among many other benefits of SNF membership, the opportunity to be awarded a SNF scholarship for higher education is open to any qualifying SNF member who sends in their application to be considered. The application and more information are available on the SNF website www.snflife.org and through the SNF Facebook page.
High School seniors may apply for the SNF Scholarship, while second, third, and fourth year college students may apply for one of the several scholarships offered for continuing education levels.
The SNF offers fifteen $1,000 scholarships to qualified first year students going to colleges, technical and vocational schools. Additionally, there are $1,000 named scholarships for upper classmen and graduate students, each with certain criteria that must be met. They are three Ann B Maigetter Scholarships, the John Radovick Memorial Scholarship, the +Gustav and Milana Karlo Bizic Scholarship, the Sally Davis Memorial Scholarship, and the Ann Davis Memorial Scholarship.
There are strict deadlines for the receipt of letters of application and transcripts at the Serb National Federation Home Office. The deadlines are imposed to enable the Scholarship Awards Committee to thoroughly review all materials.
2020 SNF Scholarship Recipients will be announced early next week.