By Milos Rastovic
CINCINNATI, OH – Representing the American Srbobran, I was present at the ATP Tennis Masters Tournament Western & Southern Open in Cincinnati, OH to meet and support Novak Djokovic, ATP No. 1 Tennis player in the world. Once there I met Serbian colleagues from Serbia's Sport Journal and Sport Club. It was a pleasure to see them again to enjoy their friendship and be with others from worldwide media.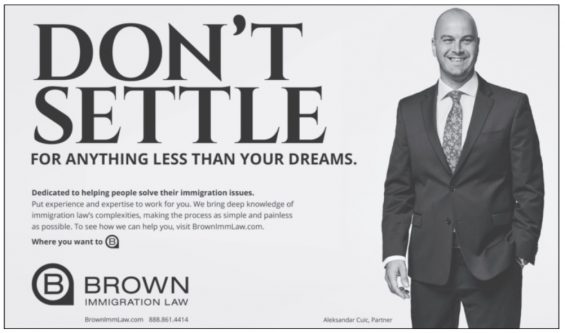 Djokovic had a successful year winning the fifth Grand Slam Wimbledon title (2011, 2014, 2015, 2018 & 2019) in July in London. Last year at the ATP Masters Tournament in Cincinnati, he became the first tennis player in history to win all nine ATP Masters 1000 Tournaments at the Western & Southern Open. This year, he came with the same enthusiasm. His supporters with Serbian flags were cheering "Nole, Nole" throughout the tournament. However, in the semifinal, Djokovic lost to Russian player, Daniil Medvedev. After the match, Djokovic pointed out at the press conference that he was "very pleased with the way I have played the entire tournament. Obviously, it hurts to lose a match. Of course, it does. But at the end of the day, I am positive about my game."
Despite the loss, he kept a positive attitude coming to the US Open in New York. During the tournament, he also showed his altruism. Before the game, he met a little boy at the stadium, held his hand, and walked with him on the court. Djokovic let the boy sit on his seat. The boy was wearing a t-shirt "I'm a Champion." He made the youngster very happy sitting with him on the court. The speaker at the stadium said that the boy had survived neuro-blastoma cancer when he was an infant. Djokovic wanted to make this moment precious for him: "Those kinds of moments stay with him for a long time. I wanted to make him feel comfortable, and I know what it means to him to be on the court. For me, it's just a little bit of attention and a gesture to make him feel good."
After the press conference, I had a chance to ask him some questions for the American Srbobran. In 2015, Novak became an honorary member of the Serb National Federation. Honorary presidents of the Serb National Federation were Mihajlo I. Pupin and Nikola Tesla, Serbian-American Scientists and Inventors, in 1929 and 1935. Djokovic kindly and with a smile responded to my questions:
MR: The Novak Djokovic Foundation offers scholarships to Ph.D. students at Faculty of Philosophy, University of Belgrade, Serbia, and Harvard University in Boston. Those students are focusing their research on the development and education of children at preschool age. What was your main motive for focusing on children at this early stage of life?
NOLE: I personally together with my wife and family help children at this early stage of life in different ways and for different purposes because we are definitely most sensitive to children. The mission of our foundation is to spread awareness of the importance of education during the preschool age. In 2011, when the Foundation became more active to address this problem,
50% of children in Serbia had not attended any preschools or other programs. They had not attended preschools because of financial problems or cultural reasons. However, the most important reason is that we have not had enough kindergartens in Serbia. Today, we still do not have enough kindergartens in Serbia. That's why we focus more on children at an early stage
of life. As a father of two children who are at an early stage of life, I work to stress the importance of early education and development of children.
MR: How important is your Christian Orthodox faith in your professional and life in general?
NOLE: I am Serbian Orthodox Christian, and I am proud of it. However, I do not limit myself to religious boundaries which we have in our religion and any other religions. I try to be more universal, to develop myself because it is more suitable for me.
On behalf of the Serb National Federation, I presented him an American Srboban and the DVD "Tesla Nation" by Zeljko Mirkovic, which he delightedlyaccepted. Spanning more than 200 years, the film recounts the storiesof many Serbian-Americans throughout history from George Fisher, the firstfamous Serb, to Mihajlo I. Pupin and Nikola Tesla, Serbian-American Scientistsand Inventors, World War I and II immigrants up to the present time.The film stresses the overall Serbian-American contributions to buildingAmerica and the world.
When I left the press room, I emphasized to him that every one of his successes is also a success of the Serb National Federation and the Serbian Diaspora worldwide.