WASHINGTON, DC – On February 11th, a celebration of the National Day of the Republic of Serbia took place at the Library of Congress, sponsored by the Embassy of the Republic of Serbia, in cooperation with the Co-Chairs of the Serbian Congressional Caucus, the Honorable Steve Stivers, and the Honorable Emanuel Cleaver II.
The Republic of Serbia celebrates February 15th as an official Statehood Day, as both the beginning of the First Serbian Uprising against the Ottoman Empire took place in Orasac on thd date in 1804, and the founding of the Candlemas or "Sretenje" Constitution in Kragujevac in 1835.
The event began with the singing of both Serbian and American anthems. At the opening of the ceremony, guests were welcomed by H.E. Mr. Djerdj Matkovic, Ambassador of the Republic of Serbia to the United States.  He praised Serbian achievements in politics, economy, science, culture and other fields of cooperation with the United States. The Honorable Emanuel Cleaver II spoke kindly of his experience with Serbian people and food in his Congressional District in Missouri.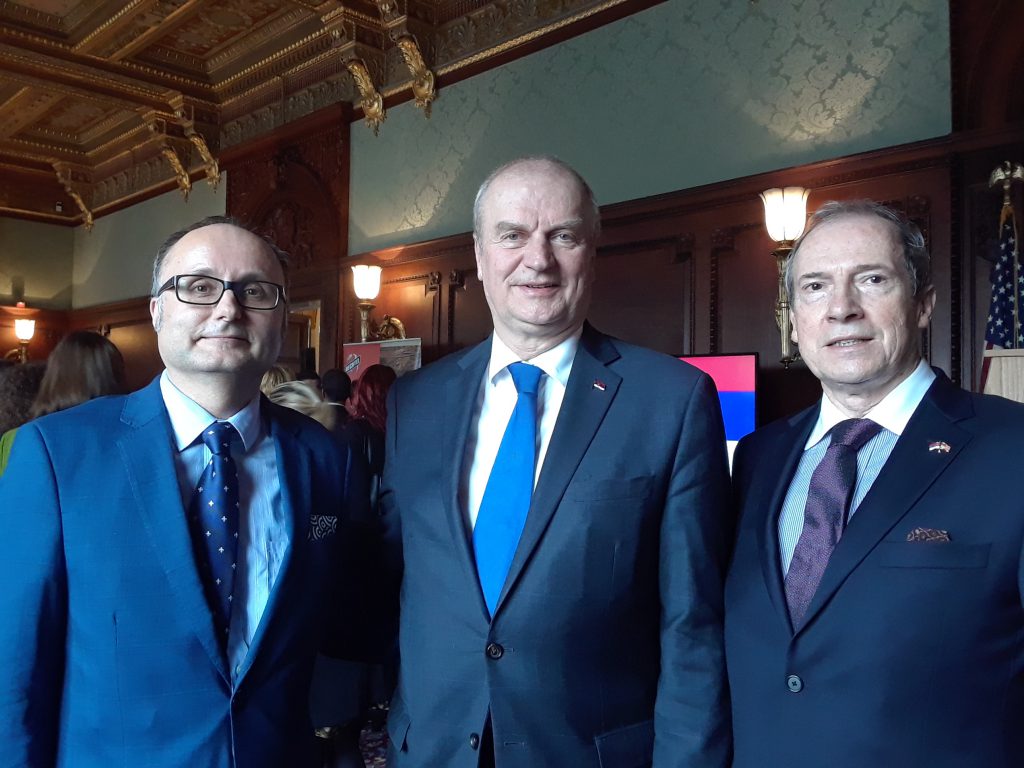 Luis E. Borunda, Deputy Secretary of State Maryland, said, "…the people of Maryland join together in appreciation of the mutual respect, admiration and friendship our great countries," as he conferred the Governor's Citation to Ambassador Matkovic.
Philip T. Reeker, Acting Assistant Secretary of the Bureau of European and Eurasian Affairs at U.S. State Department of State, emphasized the previous and current relationships between the United States and Serbia.
All guests at this wonderful reception had a chance to socialize while enjoying Serbian food.
After several centuries of Ottoman rule, the First Serbian Uprising against the Ottoman Empire was led by Karadjordje Petrovic in 1804. Although the First Serbian Uprising was broken, it gave Serbs the courage to continue their fight against the Ottoman Empire. In 1815, Milos Obrenovic, along with Serbian fighters, continued to fight in the so-called "Second Serbian Uprising" which resulted in the recognition of Serbia at the Berlin Congress in 1878.
On February 15, 1835, Duke Milos Obrenovic announced the first Serbian Constitution in Kragujevac, which was one of the first modern democratic constitutions in Europe. The Serbian Constitution expressed freedom of people and the end of feudal rules and autocracy. The Constitution served as the beginning in the development of the modern Serbian state.