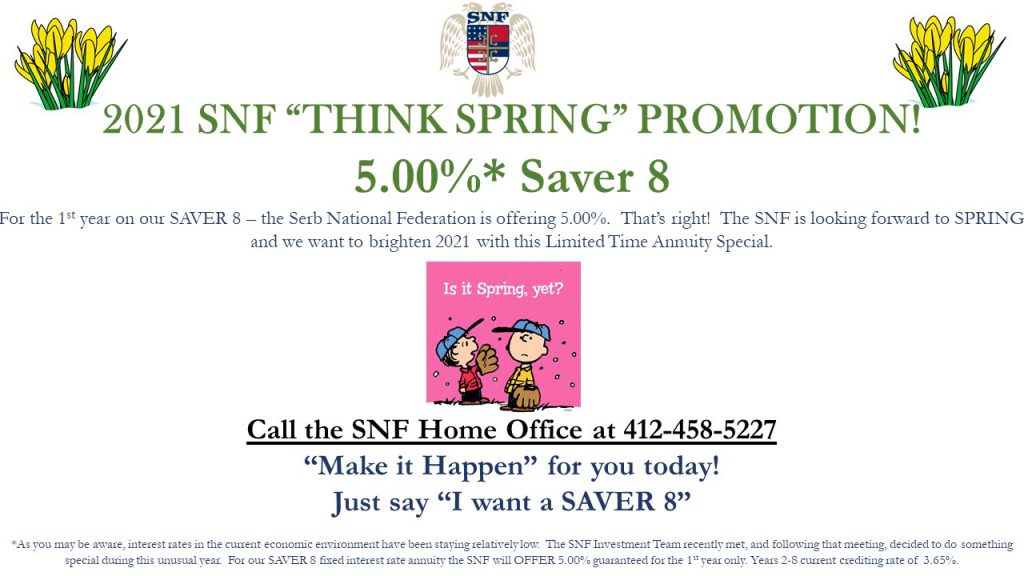 Pittsburgh, PA
As you may be aware, interest rates in the current economic environment have been staying relatively low. The SNF Investment Team recently met and, following the meeting, decided to do something special for our members in 2021. For our SAVER 8 fixed interest rate annuity, the SNF will offer 5.00% for the first year.
For any funds deposited into a NEW SAVER 8 Fixed Rate Annuity - those funds will be credited at 5.00% (for the 1st year only and from the date of deposit). Thereafter, the crediting rate will be the regular crediting rate for the SAVER 8 (as stated by the SNF) - currently at 3.65% in years 2-8. (There are certain restrictions to maintain the Bonus Crediting Rate of 5.00% for the first year - Contact the SNF Home Office for details).
Compare this rate with other companies, we doubt you'll find a comparable. This is just ONE benefit of being a member of the SNF!
This special offer - the SAVER 8, as with our other annuities can be used for traditional tax-deferred annuities, IRA, Roth IRA, or non-natural person annuities (for organizations, churches and lodges). As usual, we will be more than happy to help you get away from the volatility of the stock markets. Just contact the SNF Home Office and our team will assist you in executing a (non-taxable) transfer from your existing retirement account to the SNF!