By Sandi Radoja
One hundred and three years ago, on August 31, Mitchell (Pejic) Paige entered the world in Charleroi, PA. This year he was honored with a granite memorial in his birth town thanks in great part to a man who never knew him.
It was during a motorcycle ride that Scott Honsaker drove into the town of Eldred, PA. He noticed a World War II Museum and decided to take a break on his journey to see what they had on display. Inside he found an entire wing dedicated to Mitchell Paige and stepped in to read about the highly decorated Marine:
A Pennsylvania boy, born in Charleroi, PA, Mitch grew up as the typical small-town American boy. His family had immigrated to the United States at the turn of the century and instilled in him a great love for God and his country, America. Mitch wrote, "I will never forget listening to the exciting stories of American history in my school when I was a child. I learned all about the men who gave their lives to make this country free."
Honsaker appreciated the display and tribute, as he could see the Eldred World War II Museum takes great pride in sharing the story of a true American hero, born and raised in Pennsylvania. But what really struck a chord was discovering that Paige was born in Charleroi just like himself, and yet was unknown to him.
So, he returned to Charleroi to start a grass roots movement to appropriately recognize the Medal of Honor recipient right in the town where he was born.
Honsaker enlisted the help of the American Legion and the American Legion Riders Post 22 in Charleroi, who were honored to take part in the project. After soliciting many others for financial, material and labor assistance, a granite memorial honoring Col. Mitchell Paige was erected at the Veterans War Memorial site in town. The dedication took place on Saturday, July 3, 2021.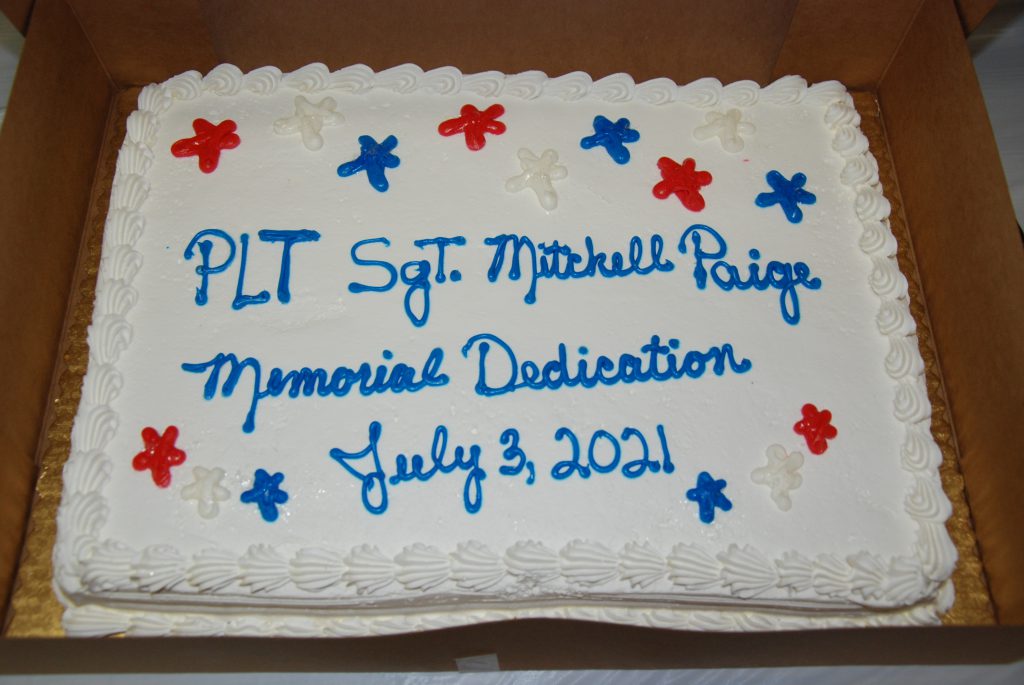 Honsaker spoke during the program representing the American Legion Riders. The keynote address was given by Brigadier General Dave Papak (ret.) of the U S Marine Corps. Proclamations were presented by Pennsylvania State Senator Camera Bartolotta and State Representative Bud Cook. There were also proclamations from Washington County, the Mon Valley Leathernecks, and the Serb National Federation, given by Lance Medich, brother of SNF President Dane Medich. Brian Domitrovich also spoke during the program and offered a historical account of Col. Paige.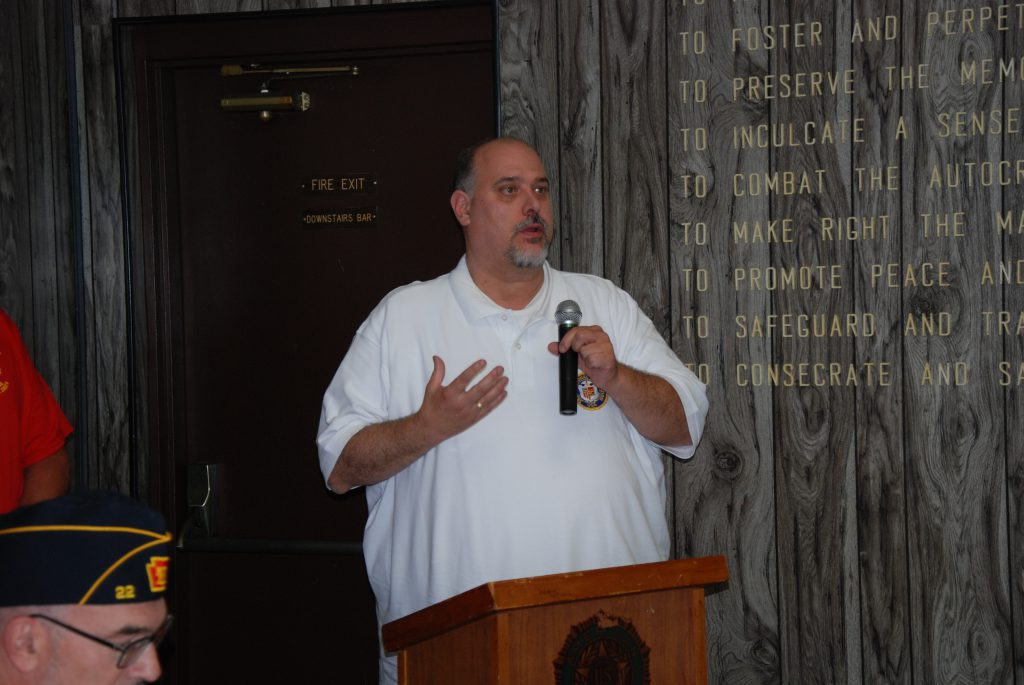 In addition to Scott Honsaker, the memorial committee included Mark Alterici, William Brounce, Apryl Cooper, John Cooper, Patrick Garman, Tim Jakela, Kat Hernandez, Ray Kibler, Bobby Lombardi, Kenny Menia, Darrell Molinari and Shawn Palfrey. Several local businesses, individuals and organizations made significant contributions to help see the project to fruition. The dedication took place during the Community Days celebration and was promoted and covered on KDKA News, in the Washington Observer-Reporter and the Mon Valley Independent.
Mitchell Paige (1918 – 2003) was a retired USMC colonel when he was awarded the Medal of Honor. In 1936 Paige joined the Marine Corps to see the world and serve his country. When the war with Japan broke out in 1941, he was a platoon sergeant in charge of a machine gun platoon with the 7th Regiment, 1st Marine Division. He rose through the ranks of the Marine Corps after a battlefield commission in 1943 and retired as a full colonel in 1964. He received the Medal of Honor for his actions at the Battle of Guadalcanal during WWII. His citation, signed by President Franklin D. Roosevelt, read in part:
For extraordinary heroism and conspicuous gallantry in action above and beyond the call of duty while serving with the Second Battalion, Seventh Marines, First Marine Division, in combat against enemy Japanese forces in the Solomon Islands Area on October 26, 1942. When the enemy broke through the line directly in front of his position, Platoon Sergeant Paige, commanding a machine gun section with fearless determination, continued to direct the fire of his gunners until all his men were either killed or wounded. Alone, against the deadly hail of Japanese shells, he manned his gun, and when it was destroyed, took over another, moving from gun to gun, never ceasing his withering fire against the advancing hordes until reinforcements finally arrived. Then, forming a new line, he dauntlessly and aggressively led a bayonet charge, driving the enemy back and preventing a breakthrough in our lines. His great personal valor and unyielding devotion to duty were in keeping with the highest traditions of the United States Naval Service.
Paige served as a model for a G. I. Joe action figure. He died at the age of 85 in 2003 from congestive heart failure in LaQuinta, California, and is buried at Riverside National Cemetery.
The permanent memorial area will have added improvements in the future, including back lighting and other items. You can support expansion and maintenance of the memorial site by donating to the Mitchell Paige Fund, 730 Walnut Street, Donora, PA 15033.