By Branko Mikasinovich
Although I see Alex Machaskee infrequently, each time he leaves the same impression on me, that of an elegant, handsome and successful professional. Seeing him for the first time, years ago, I immediately could imagine how he became very successful in the competitive newspaper business. And he was truly successful, having become an American Serb of great influence. During his career he hosted global, national and state political and social luminaries in his role as Publisher of Ohio's leading newspaper The Plain Dealer of Cleveland.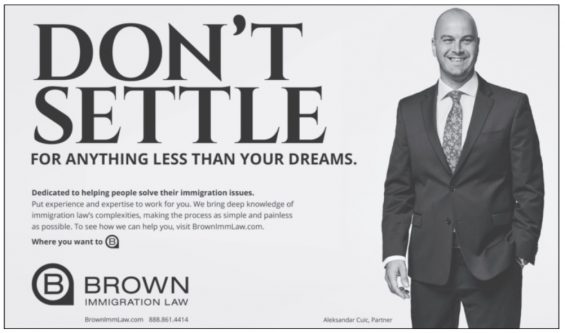 He was born in Warren, Ohio, in 1937 as Alexander Machaskee. His Serbian last name was changed from Macesich to Machaskee, as Alex tells the story, by an "ignorant teacher" who could not understand his father George's spoken English at all and as a result Macesich became Machaskee. Following his basic education in Warren, Alex graduated from Cleveland State University in 1971 with a Bachelor's degree in Marketing. He also later received an honorary doctorate degree from Cleveland State University as well as Akron University, Heidelberg University and St. Vladimir's Orthodox Theological Seminary.
Alex became interested in journalism as a young man working initially as a beat reporter often covering sports events. He joined The Plain Dealer in 1960, switching to management roles where he climbed the corporate ladder eventually becoming President and Chief Executive Officer before retiring in 2006. For that achievement alone he will certainly be remembered as a great Serbian-American in the annals of American journalism.
Alex Machaskee has received numerous national and international honors during his illustrious career. Among the awards bestowed upon him is The Ellis Island Medal of Honor from the Ellis Island Honor Society and in 2010 he was elected to the Cleveland International Hall of Fame. Machaskee's charitable and humanitarian activities include service as a member of the Board and later as Chairman of the International Orthodox Christian Charities (IOCC). He has also been appointed as the Honorary Consul for Ohio by the Republic of Serbia. Furthermore, Alex led the fund raising effort to raise the revenue necessary for the creation of a new Serbian Cultural Garden in Cleveland, Ohio, one of his most cherished projects. The garden is made up of a central terrace where the bronze icon of St. Sava, patron saint of the Serbian people is displayed and an additional eight small terraces where the busts of Nikola Tesla, Mileva Maric, King Peter I, and a number of other busts of famous Serbian people are featured.
When I reread his official biography mentioning that he was "an accomplished musician" I instantly recalled an event of a few years earlier while I was on a spring vacation in Sarasota, Florida. The occurrence was a social gathering of Serbs from the area featuring musicians and singers. This party I learned was an annual celebration of friends and family. Aside from his great interest and love of Serbian music, Machaskee was for many years Vice-President of the world-famous Cleveland Symphony Orchestra.
Even today I vividly remember Alex's singing in Serbian. As a speaker Alex could manage Serbian with an American accent, but when singing, his Serbian was perfect albeit with a slight intonation of the "old" Serbian brought over to the US from Serb immigrants from the Krajina region. Watching him sing I was touched to see his love for all things Serbian, particularly for the music. Alex sang the old songs of the Serb immigrants with zest and enthusiasm preserving a musical heritage of the Serbs who arrived in America a century ago. 
Ed note: This is an excerpt from the book Memorable Encounters, available through the publisher. See the advertisement in Classifieds for information on how to order.