By Sandi Radoja

Inspiration can present itself in several different forms. For Dr. Sally Radovick, it came from several different people.
Sally received her medical degree from Northeastern Ohio Universities College of Medicine and went on to do her residency in pediatrics at Case Western Reserve University. She did her fellowship in pediatric endocrinology at the National Institutes of Health. Here circuitous route went through Boston for 11 years and Chicago for five before heading to Johns Hopkins where she was the Lawson Wilkins Professor of Pediatrics, Division Director of Pediatric Endocrinology and Vice Chair for Research in the Department of Pediatrics at Johns Hopkins University School of Medicine.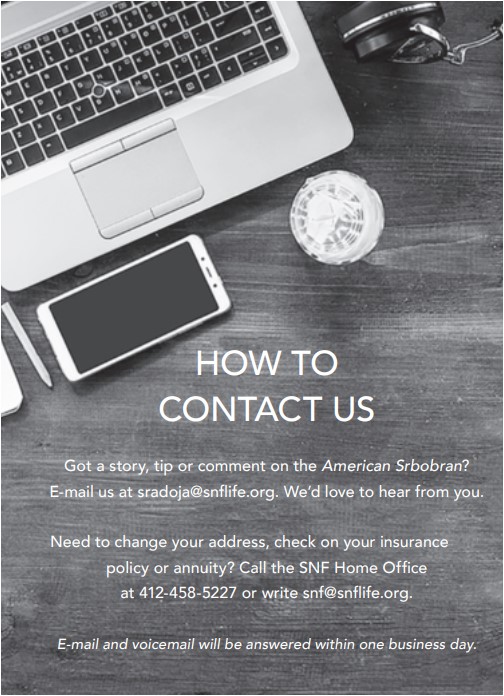 Today she is in New Jersey with her husband Dr. Fredric E. Wondisford and is the Henry Rutgers Term Chair of Pediatrics and Senior Associate Dean for Clinical and Translational Research at Rutgers Robert Wood Johnson Medical School. Everywhere she has settled, she sought out Serbian communities and churches.
Her challenging and rewarding journey began in her hometown of Youngstown, Ohio, where her family were members of Holy Trinity Serbian Orthodox Church and SNF Lodge #237 St. George. Years ago, her father, who was born in the United States, traveled back to the family home in Ponikve, Lika, Croatia. World War II broke out, and with that bad timing he was held as a Prisoner of War. After his return stateside, he eventually sent for his wife Simica and their two older children. She was often called Sima, but affectionately known by just about everyone in the family as Baba. Baba was one of those positive forces that nudged Sally along her way through years of education and career moves. During Baba's time with them, she made many things possible as she was a constant in the lives of Sally and Fred's two daughters, Sarah and Annie. Baba lived with them for about 25 years before passing on.
Another person who helped guide Sally through life is her Uncle John 'Jimmy' Radovick. After her father died, Uncle Jimmy stepped up to pay for Sally's education because he understood the value of having that opportunity. Others who helped included her Aunt Sally Davis and Aunt Ann Davis, who lived next door to Sally's family in Youngstown. The aunts were always there to help in every way possible and offered positive reinforcement on many levels. Both ladies were educators; Ann eventually became a school principal. John, Sally and Ann were resolute about the importance and value of education.
If her uncle's and aunts' names sound familiar to SNF members and readers of the American Srbobran, it's because Sally and Fred endowed scholarships in honor of each of them. In this way, John, Sally and Ann continue to help other students reach their education goals. Higher education: "It's the only way we can achieve upward mobility," said Sally.
Sally's is not only a family of educators but a medical family, too. Husband Fred is an internist and endocrinologist, and Chairman of Medicine and Chancellor Scholar at Rutgers-Robert Wood Johnson School of Medicine. He was Professor of Medicine, Pediatrics and Physiology and Director of the Metabolism Division and Diabetes Institute at Johns Hopkins University School of Medicine before that. Their older daughter Sarah graduated from Georgetown University and Rutgers, Robert Wood Johnson Medical School. She is a neurologist and stroke fellow practicing in Pittsburgh. Younger daughter Annie is currently a medical student at the University of Pittsburgh. Her sister Melissa still lives in Youngstown Ohio with her daughter Simone (Simi). Both received master's degrees in education.
Wherever her studies and career have taken her, Sally has continually retained her membership at Holy Trinity. She and Fred were married in the Church 40 years ago, the children baptized, followed by Sarah's marriage in 2017. She and her family are lifelong members of the Serb National Federation and have subscribed to the American Srbobran. The scholarships she and Fred endowed are only one example of their connection to Serb life. They most recently made a significant contribution to the Youngstown church for the renovation of the Sunday School classrooms in honor of Ann and Sally, who taught there for nearly 40 years, and the resealing application of gold leaf on the church dome.
Sally has been conducting biomedical research and mentoring students and fellows for more than a quarter century. Research on her indicates she has trained over 50 predoctoral students and postdoctoral fellows and junior faculty and has remained clinically active during her career, precepting teaching clinics in Pediatric Endocrinology. She is the curator of a tissue repository for patients with hypopituitarism. Her most notable teaching efforts have been in training individuals for scientific research.
In addition to her many efforts along these lines, she is open to expanding that work with an offer of help to aspiring Serbian students through teaching, training, or simply lending an ear. With her background and skills, young students would be wise to take advantage of this generous offer from such a distinguished mentor.
With Sally's success and immensely busy schedule, you must wonder why she does all these extra things and is willing to take on more.
She does it because there were those who did it for her.
She does it because she is grateful.
She does it because she is generous, in more ways than simply through monetary avenues.
All of the above.
The answer is 4. All of the above. And perhaps the biggest reason can be summed up in the simple statement she made at the end of our interview: "Because I love what I do."Note: During the process of gathering information and writing this piece on Dr. Radovick, my admiration for her hard work and accomplishments grew. For a while she considered stopping the publication for fear it might give the impression of some arrogance on her part. That couldn't be further from the truth. She finally agreed to allow its publication after long consideration and for good reasons. She said, "I really hope that the piece encourages other young Serbians to develop their careers and be proud of their heritage and achievements. I hope it also lets them know that I am always willing to listen and help." That's who Dr. Sally Radovick is, a proud Serb with a brilliant mind and a willingness to do whatever she can to help others.