"O,  Lord, grant His Holiness Serbian Patriarch Porfirije to Your  Holy Church in peace, safety, honor, health, length of days, and that he may rightly dispense the word of Your Truth! Axios! For many years!"
On February 18, the Holy Assembly of Bishops, the supreme body of the Serbian Orthodox Church, at its convocation selected His Eminence Metropolitan Porfirije of Zagreb and Ljubljana as the 46th Serbian Patriarch. His official title is the Archbishop of Pec, Metropolitan of Belgrade and Karlovci, and Serbian Patriarch.
The election took place at Saint Sava Memorial Cathedral in the Vracar district. The ceremony began at 9:00am with Holy Hierarchal Liturgy officiated by His Eminence Metropolitan Hrizostom of Dabar-Bosnia, chairman of the Holy Synod of Bishops, with the concelebration of the hierarchs gathered for the election.
During the process, the bishops first voted from among themselves to narrow it down to three preferred candidates. In the second round, separate envelopes, each containing a piece of paper with one of the three names were placed into the Holy Gospel. The other two candidates were His Grace Bishop Irinej of Backa and His Grace Bishop Ephraim of Banja Luka. After a common prayer, Archimandrite Matthew Ristanovic from Holy Transfiguration-Sisojevac Monastery pulled out the name of Metropolitan Porfirije. The complicated process of the Apostolic Vote introduced in 1990 was reportedly designed to avoid any outside influence, and so that no secular authorities could interfere. It is believed the final name is chosen by the Holy Spirit.
A moleban of thanksgiving was celebrated immediately following the election, and Many Years was chanted to the new Serbian Patriarch while the bells rang at St. Sava Cathedral a few minutes before 4:00 pm indicating the election was complete. He was formally enthroned as Patriarch the following day at St. Archangel Michael Cathedral in Belgrade. According to tradition he will also be enthroned at the Patriarchate of Pec in Kosovo and Metohija.
The electoral assembly took place in the crypt of the Cathedral in accordance with the constitution and canons of the Holy Church. While no media were permitted to be present during the voting procedure, an official press release was distributed with the results of the session immediately afterwards.
ABOUT HIS HOLINESS
His Holiness was born Prvoslav Peric on July 22, 1961 in Becej, Serbia. His parents are Radojka and Radivoj Peric. He attended primary school in Curug and graduated from Jovan Jovanovic Zmaj Gymnasium in Novi Sad before being ordained a monk at Visoki Decani monastery in 1985. He earned a bachelor's degree in Orthodox Theology form the University of Belgrade in 1986. His postgraduate studies were at the University of Athens (1990) where he earned his doctorate by 2004.
He entered Kovilj Monastery in October 1990 and was ordained as hieromonk in November, after which he was named hegumen. The monastery became a draw for many young people during his time there including artists, actors and rock musicians. He was elected Titular Bishop of Jegar and appointed as Vicar to the Eparchy of Backa in 1999.
While at Kovilj Monastery, His Holiness dealt with many people who suffer from drug addiction. By 2005, he formed Zemlja Zivih or The Land of the Living, a drug rehabilitation program providing camps for residents in need. Many young monks and novices came to the monastery following him, and the monastery became a spiritual center for intellectuals, artists, popular actors and rock musicians, especially from Novi Sad and Belgrade. "The Land of the Living" is recognized as one of the most successful projects for drug-addiction therapy. The program now has more than a hundred residents in camps throughout Serbia.
Other service our new Patriarch has done includes his work to establish a military chaplaincy in the Serbian Armed Forces. He served as a chaplain until 2011, working as a coordinator of cooperation between the Serbian Orthodox Church and the Serbian Army.
Nearly seven years ago, in May 2014, he was elected to his most recent post of Metropolitan of Zagreb and Ljubljana.
Recognitions include the Order of St. Ignatius, awarded to him by St. Ignatius college, for his contribution to the reconciliation of Balkan nations (2016, Stockholm, Sweden); Presidency of the Prevrednik Foundation in Novi Sad since 2002; Council president of the Regulatory Authority of Electronic Media in Serbia (2008-2014).
He has been a lecturer at the Faculty of Orthodox Theology, Department of Pastoral Psychology, succeeding the famous psychiatrist and academician Dr. Vladeta Jerotic. As Bishop Porfirije, his expert theological works have been published in magazines in Serbia and abroad, and he has participated in numerous scientific conferences and symposia throughout the world. His Holiness also speaks Greek, English, German and Russian. He is viewed by many as part of a younger generation of internet savvy clerics.
MANY WELCOMES
His Royal Highness Crown Prince Alexander was among the first to extend his warmest congratulations to the newly elected Patriarch. "As the Crown Prince and Head of the Royal Family of Serbia I warmly congratulate you on your election as the 46th head of our autocephalous Serbian Orthodox Church, exclaiming 'Worthy!'" said His Royal Highness. In official greetings from the Royal Family, comments included the fact that the Holy Serbian Orthodox Church and the Crown are the oldest institutions of the Serbian nation. Both have shaped, preserved, and guided Serbia through the centuries, "through your holy predecessors, we have always had spiritual consolation and strength, as well as support of our joint endeavors for the benefit of our people."
His Highness expressed his wish to continue the centuries-old tradition of working for the common good together. Basing His comments on past experience with His Holiness, the Crown Prince said, "We are confident that you will continue to provide us with paternal care and support, in the same way as your predecessors, the late †Patriarch Pavle and †Patriarch Irinej, of whom the holiest and most blessed memories we cherish."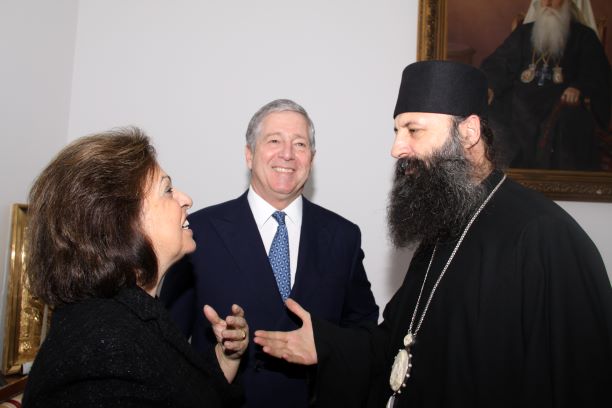 SNF President Dane Medich said, "On behalf of the SNF Board of Directors, staff and members, I would like to extend heartfelt congratulations to our newly elected 46th Patriarch of the Serbian Orthodox Church His Holiness Porfirije by exclaiming Axios! As part of our mission statement, the Serb National Federation supports our Holy Serbian Orthodox Church. I am so honored and thankful to announce the enthronement in our American Srbobran." President Medich has been leading the SNF in the face of unprecedented circumstances including pandemic-related cancellations of traditional SNF events, challenges to the Church in Montenegro and the loss of our †Patriarch Irinej last year. Through the work of the SNF Board, who have been meeting primarily online over the past year, the SNF has remained steadfast in their support of the Church. "We express our fervent hope that His Holiness will visit the SNF Home Office in Pittsburgh, Pennsylvania, on his next journey to the United States. It would be one of our greatest honors. May God grant him many years!"