Skip to content
As the official publication of the Serb National Federation, the American Srbobran celebrates a long and rich history of Serbian culture that helps keep American Serbs rooted in their traditions, beliefs, and customs. It stands alone as the oldest continuously-published Serbian newspaper in the world.
With both national and international readership, the American Srbobran has its publications archived in the United States Library of Congress in Washington, D.C and the National Library of Serbia in Belgrade. General content includes social, athletic, cultural, and religious news relevant to members of the SNF in Canada and the United States as well as those of Serbian descent worldwide.
Starting with its first published issue on January 18, 1906, the American Srbobran produced weekly papers until 1916. Then, it transitioned to daily releases exclusively in Serbian Cyrillic through the 1930s. In order to attract a younger generation, mainly the children of Serbian immigrants who grew up speaking English as their native language, the American Srbobran added an English section to the newspaper. Today, it releases monthly publications in both English and Serbian Cyrillic in print form and maintains a current online periodical as well as archived issues.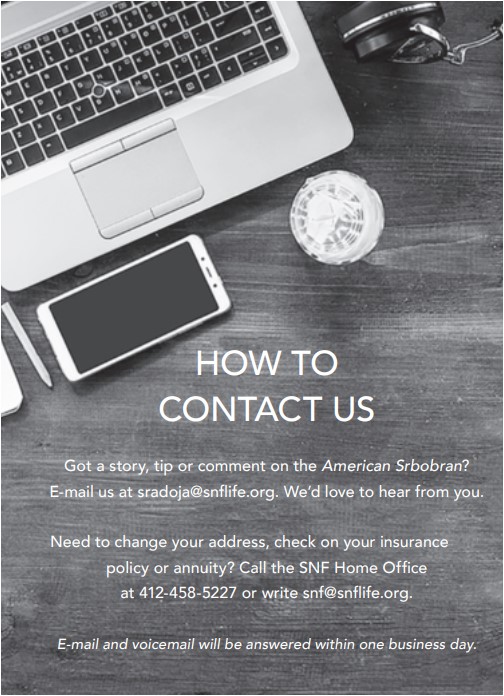 Throughout the years, the American Srbobran has featured exclusive interviews with many famous Serbs such as scientists and inventors Mihajlo I. Pupin and Nikola Tesla, World Tennis Champion Novak Djokovic, and internationally famous actor Karl Malden, to name a few.
Many noteworthy Serbian writers and novelists have contributed to the American Srbobran, including diplomats, poets, and academics Jovan Ducic and Milan Rakic; poet and author Milos Crnjanski; Nobel prize winner Ivo Andric; poet and professor of literature Desanka Maksimovic; Pulitzer prize winner and 15th United States Poet Laureate Charles Simic; poet Vasko Popa; and distinguished professors and awards winners Branko Mikasinovich, Vasa Mihailovich, V. Rev. Stavrofor Mateja Matejic, and Dr. Aleksandar Petrov who once served as Serbian section editor.
The Pennsylvania Fraternal Congress awarded the American Srbobran "Best Newspaper" in 2001. Sandi Radoja and Dr. Krinka Petrov serve as current editors of the English and Serbian sections respectively.